Ukulele Workshop in Karratha (SATURDAY May 25th - Small group)
REGISTRATION ENDS TONIGHT
--------
Come and learn the basics to Ukulele in this
one-day interactive workshop (as a small group)!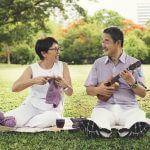 This is open to anyone wanting to learn! Teachers, EA's, childcare workers, parents – if you want to learn – come and see!
We'll learn some easy chords, find out how many songs you can actually play with those chords, learn different strumming techniques to make your songs sounds great and give you extra tips.
Whether you're in the classroom, in a childcare environment, or just want to play for your own enjoyment or for your kids at home – music is amazing in any arena. It touches every area of the brain, at any age.
The workshop price includes a beautiful, great-sounding mahogany Black Belt Ukulele (AND tuner, AND case, AND strap)!
WHEN: SATURDAY MAY 25th - SMALL GROUP (10 people max)
TIME: 2.45pm-6.45pm
WHERE: Karratha Inernational Hotel
COST: $185 – includes a beautiful new mahogany ukuele for you to keep and a tuner, strap & case. (If you want to bring your own ukulele, the cost is $125)
Registration ENDS this TONIGHT (latest tomorrow morning) to allow time for me to pick up and pack ukuleles!

HOW TO PAY:
Through PayPal or Bank Transfer - order tickets below and at checkout you can choose which way you want to pay.
Queries?
Email me: amy@musicstudio.com.au
Call me: 0404 753 939
Children Allowed? Sorry, please keep children at home for this workshop. However, if your child is 13 or over, they are able to come and do the workshop with you but are required to have you registered and attend also.
Facebook: https://www.facebook.com/AmyNicolesStudio/
Website: https://musicstudio.com.au
Cancellation: Within 7 days of the event, 50% of the fee will be refunded. Cancellation on the day is no refund.
Ukulele Intensive Tickets
Please feel free to send me a message on the contact form and I'll respond ASAP!