Come along for a trial class
Want to experience something new educational, exciting and age-appropriate for your little one? A class where they learn without realising they're learning...and where you have fun too?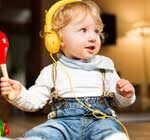 You're invited to come along for a free trial class for our 0-6 years!
Each Wednesday during the school term at Whitfords Family Centre:
Toddlers (1, 2 & 3 year olds) 9.30-10.15am (very limited spots)
Babies (0-18month) 10.15-11.00am (very limited spots)
Kids (3, 4 & 5 year olds) 11.00-11.45am

Each Tuesday during the school term in Hillarys:
Big Kids (4, 5 & 6 @ Hillarys) 3.40-4.25pm
📙Research has shown that music for very young children generates neural connections, enhancing higher brain functions that enable a child to reason in subjects such as math, physics and engineering.
📗Movement activities and timing games develop motor skills, coordination, body awareness, and spatial concepts. All of this helps greatly with sports, dance and other physical activities.
Music is the ONLY subject that links both sides of the brain in such a way that is highly beneficial to developing minds.
Let alone the enjoyment that children get from dancing, being silly and having fun with instruments and puppets in class!
Please pop your details below and you'll receive an email from me telling me which class you're in for a trial class. Feel free to invite your friends too!
Check out the tabs below for more details on specific classes and costs for ongoing lessons.
Classes are limited to 10 spots, once the spots are gone, they're gone!
---
---
---
---