Ukulele Club
Want more than just learning on your own?
Want a community to play with?
Want to expand your knowledge?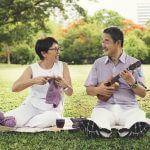 This is open to anyone who has previously done a course with me (or please speak to me if you haven't yet attended one.) This is not a beginners course, this is the next steps 🙂
What do we do?
- solidify what you already know
- learn new chords
- expand your strumming
- learn new songs
- have fun!
- build a ukulele community that is part friendship and part learning!
This club will have people of varying abilities and we will work to everyone's level.
DAY: WEDNESDAY 6pm - 6.40pm (40min)
WHERE: Greenwood Studio (address on confirmation of payment)
WHEN: During each term for a 6 week course (you're welcome to attend just one 6-week club or continue to attend!)
COST: $165 for the whole 6-week course, includes song sheets.
MISSED LESSONS: The club is for a 6-week course and there is no discount for missed lessons or if you'll be away (your place is your place for the whole 6 weeks and no one can take your spot.) However, if you do miss any lessons during the term, I do offer a make-up group class at the end of term 🙂
What Now?
Click on the ticket below, enter your details and make sure that you pay (if going via direct debit). I'll send a confirmation email with more details in it after I have confirmation on my end. If you have any queries please let me know amy@musicstudio.com.au
HOW TO PAY:
Through PayPal or Bank Transfer - order tickets below and at checkout you can choose which way you want to pay.
Queries?
Email me: amy@musicstudio.com.au
Call me: 0404 753 939
Children Allowed? Sorry, this is for adults. However, if your child is 16 or over, they are able to come and do the workshop with you but are required to have you registered and attend also.
Facebook: https://www.facebook.com/AmyNicolesStudio/
Website: https://musicstudio.com.au
Cancellation: Within 7 days of the course, 50% of the fee will be refunded. Once the course has started, there is no refund.
Ukulele Club Tickets
Please feel free to send me a message on the contact form and I'll respond ASAP!