Saturday 25th January (central)
Ukulele Workshop!
SOLD OUT
To register your interest for the next one please fill out a contact form and I will add you to the list.
Come and learn the basics of the Ukulele in this one-session interactive workshop!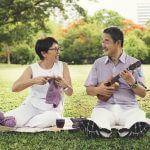 This is open to anyone wanting to learn if you are aged 13 and up! Whether you have some experience or none at all!
We'll learn some easy chords, find out how many songs you can actually play with those chords, learn different strumming techniques to make your songs sound great and give you extra tips.
Music is amazing in any arena. It touches every area of the brain, at any age! This day session will be packed full of information & scaffolded for different levels, the equivalent of 10-15 lessons.
The workshop price includes a beautiful, great-sounding mahogany Black Belt Ukulele (AND tuner, AND case, AND strap)!
WHEN:
Saturday 25th January 9.30am - 2.15pm
WHERE: Mt Hawthorn Baptist
COST INCLUDES:
A beautiful new mahogany ukuele for you to keep and a tuner, strap & case plus the course booklet & the whole day session.
Cost:
SUPER Early Bird $175 (until November 30th)
Early Bird $185 (until December 24th)
Normal $195
------------SOLD OUT------------
If you want to bring your own ukulele, please choose "own uke" and you will still receive the full-day intensive & course booklet. Cost: $130 ($115 SUPER Early Bird, $125 Early Bird)

COMPLETED THE BEGINNERS?
Well then come along to the intermediate course on January 11th (9.30-12pm, same venue as the normal course TBC.) The intermediate course will have some more chords, new songs & practicing our strumming. It's the next level up, a 2.5 hour workshop to keep you practicing & inspired!
OR you can repeat the beginners course on the 25th for half price if you think you're not quite ready for the next level ("refresher course" option below!)


HOW TO PAY:
Order tickets below and at checkout you can choose which way you want to pay. An email will be sent to you confirming your ticket. If you don't receive an email, please send one to the contact details below.
Queries?
Email: amy@musicstudio.com.au
Call: 0404 753 939
Children Allowed? If accompanied by an adult! Must be 13 and up to attend this course as it is a full intensive. There is a Kids Ukulele Workshop in the January Holidays (9th & 28th)
Facebook: https://www.facebook.com/AmyNicolesStudio/
Website: https://musicstudio.com.au
Cancellation:
Before 7 days of the event, the full amount will be refunded.
Within 7 days of the event, 50% of the fee will be refunded.
No refund if cancelled on the day.


Please email me if you'd like to register interest for the end of 2020. This is the LAST Workshop for a while (we're having a baby!)

Ukulele Intensive Tickets - SOLD OUT
Register interest below:

Register for Next Workshop
Please feel free to send me a message on the contact form and I'll respond ASAP!