Kids Ukulele Workshop
(one session - 2 hours)
Come and learn the basics to Ukulele in this
one-day interactive workshop (as a small group)!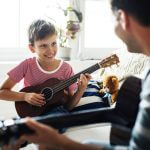 This workshop is specific to children aged 7 to 14 (older ones can join in the Saturday 23rd Ukulele Workshop) who may have NO knowledge or a little and want some hands-on help!
We'll learn some easy chords, find out how many songs you can actually play with those chords, learn different strumming techniques to make your songs sounds great and give you extra tips.
Music is amazing in any arena. It touches every area of the brain, at any age! Each group will contain no more than 8 students learning together.
The workshop price can include a beautiful, great-sounding mahogany Black Belt Ukulele (AND tuner, AND case, AND strap) valued at $100!
WHEN (1 Session Available)
Thursday 15th April - 9.30am - 11.30am
A booking form will be emailed to confirm session, after payment.
WHERE: The Studio, 41 Flinders Ave, Hillarys
COST OF WORKSHOP ONLY:
$85 (Super Early Bird $65, Early Bird $75)
Cost INCLUDING:
Mahogany Ukulele + Tuner + Case + Strap
Total Cost: $145 (Super Early Bird $125, Early Bird $135)

If you have your own ukulele please feel free to bring that yourself and pay for the workshop only. However, If you have yet to buy one for your child please buy this ukuklele as opposed to a cheaper one as it's a beautiful mahogany one. It will hold it's tune, have a beautiful sound and be used for years to come. The cheaper ones are usually made from thin wood, will last for a little while but will not hold their tune and your child will very quickly not want to play it anymore as it's too hard to make it sound right. Spending a few dollars more ensures they'll want to play it - plus it includes a tuner, strap & case. I don't get comission for these ukuleles, I pass on my teacher discount to you as I'd rather people have great sounding instruments!

SUPER Early Bird: Ends March 22nd
Early Bird: Ends March 31st


HOW TO PAY:
Through PayPal or Bank Transfer - order tickets below and at checkout you can choose which way you want to pay.
Queries?
Email me: amy@musicstudio.com.au
Call me: 0404 753 939
Do parents need to attend? No this is strictly for children. If you'd like to learn there is a full-day workshop on the 25th of January.
Facebook: https://www.facebook.com/AmyNicolesStudio/
Website: https://musicstudio.com.au
Cancellation: Within 7 days of the event, 50% of the fee will be refunded. DUe to the nature of the workshop, there is no refund if there is a cancellation ON the day, for any reason.
Ukulele Intensive Tickets
Please feel free to send me a message on the contact form and I'll respond ASAP!